For an organization to be tax-exempt under section 501(c)(3) it cannot "participate in, or intervene in (including the publishing or distributing of statements) any political campaign on behalf of (or in opposition to) any candidate for public office."
Anyone can submit a complaint to the IRS regarding a non-profit; being a donor is NOT a requirement.
File an IRS Complaint
Submit a Tax-Exempt Organization Complaint (Referral) Form 13909 to the IRS. The IRS Form 13909 is located here: https://www.irs.gov/pub/irs-pdf/f13909.pdf
** KEEP A COPY OF YOUR IRS COMPLAINT TO INCLUDE WITH YOUR STATE CHARITY COMPLAINT !!!
Section 1
Walkaway Foundation
1872 Lexington Avenue
New York, NY 10035
EIN: 83-2820906

Section 2
EIN: 83-2820906

Section 3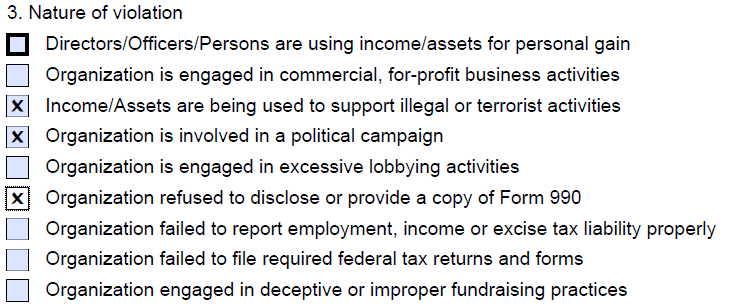 Section 4
| | |
| --- | --- |
| Names | Libby Albert | Brandon Straka | Tracy Diaz | Maria Albanese |
| Titles | Executive Director | Chairman | Director | Director |
| Dates | 2018 – 2019 | 2020 – 501(c)(3) and PAC |
| Amount | $715,341 (2018-2019) | 2020 – 501(c)(3) and PAC |

Section 4) Sample Description of Activities
The organization denies requests to produce 990s. Libby Albert's response to 990 requests includes calling folks "drunk and stupid". #WalkAway deviated from its Mission Statement "to make our country a better place through honest, fact-based education" to primarily campaigning for the failed re-election of Donald J. Trump, and to "take OUT" Alexandria Ocasio-Cortez. #WalkAway also conducted get-out-the-vote drives for both Loeffler and Purdue; however, it cannot be discerned if the WalkAway Foundation "501(c)(3)" donations were used, or its sister Walkaway Foundation "PAC" donations were spent on its futile efforts. Brandon Straka was arrested for the storming of the Capitol on 1/6/2021.